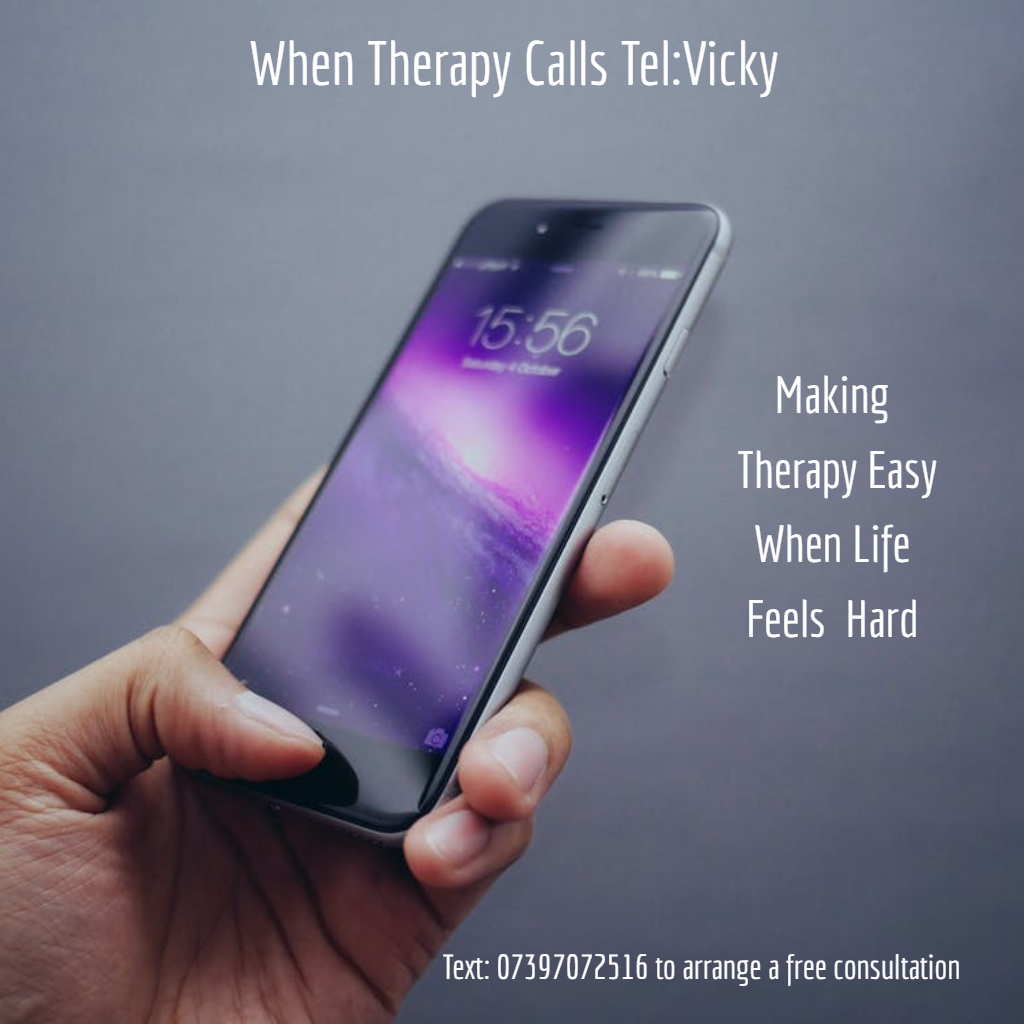 Telephone Counselling can be ideal for those who have…
Limited time, maybe with work or business or maybe Caring for a loved one, a Parent or a new Mum
Mobility issues
Location, transport or commuting issues
Mental health issues, which might make it hard for any number of reasons
An illness; and or on sick leave
A disability or physical condition
Or for those who feel;
Anxious about face to face Counselling and or social situations
Depressed making it difficult for various reasons
Embarrassed or ashamed, and would prefer if Counselling felt more anonymous
and for those in
Controlling relationships who'd like to speak to someone confidentially
Or DURING A PANDEMIC IF SELF ISOLATING
Telephone Counselling opens up a world of possibilities and makes accessing therapy simple and easy! Some people however fear that with Telephone Counselling the theraputic relationship may be affected and be less efective if not sat in the same room as their Counsellor.
In my experience as a Teletherapist (working remotely with Clients by phone or onlinel) Clients who are able to be in their chosen environment, like from home tend to feel more comfortable, as it can reduce fear, anxiety and even stress that may have been caused by getting to and from sessions or meeting face to face with a therapist for the first time.
Clients who experience Telephone Counselling in contrast to face to face or video call Counselling tend to experience a sense of relief anonymity. They feel less vunerable and exposed and therefore relaxed and safe enough to open up. Perhaps not having to fear the facial expressions or persevied judgedments of another may have something to do with it. Freedom of expression is exactly what is needed to explore feelings to begin to understand their meaning and inturn become more self aware. Awareness is key and this is what makes the therapeutic process very effective and often at a faster rate than in conventional face to face therapy.
Remote Counselling has many benefits be it by phone or online however the bonus about Therapy by phone (landling or mobile) means there is no need for any fancy equipment, amazing internet speed or adequate lighting and of course the worry about feeling 'camera ready' is eliminated, Phew!

Remote Counselling has many benefits, not only for those who may find it difficult to attend regular Counselling in the community for whatever reason but also for those who don't wish to put their life on hold for longer than necessary.
Therapy usually lasts for about an hour, but if you include travel time and parking etc that would have to happen in traditional counselling then it can take up as much as half a day, valuable time right!? and let's face it, we're all pretty time poor these days right?!
Luckily with remote therapy (phone or online) once the therapeutic hour is up, you're done and you can back to whatever it is you need to do without wasting time in traffic, or without putting your health at risk.
*Disclaimer
Telvicky is not a helpline and cannot help you 24/7 or during a mental health crisis.
Therapy works best when you able to be reflective. If you are in need of immediate support in a crisis please visit my helpline page.
Issues I do not work with include: Mental health Crisis, Sexual Abuse, Childhood Sexual Abuse/Trauma, Psycho Sexual Issues for Men, Rape Crisis.